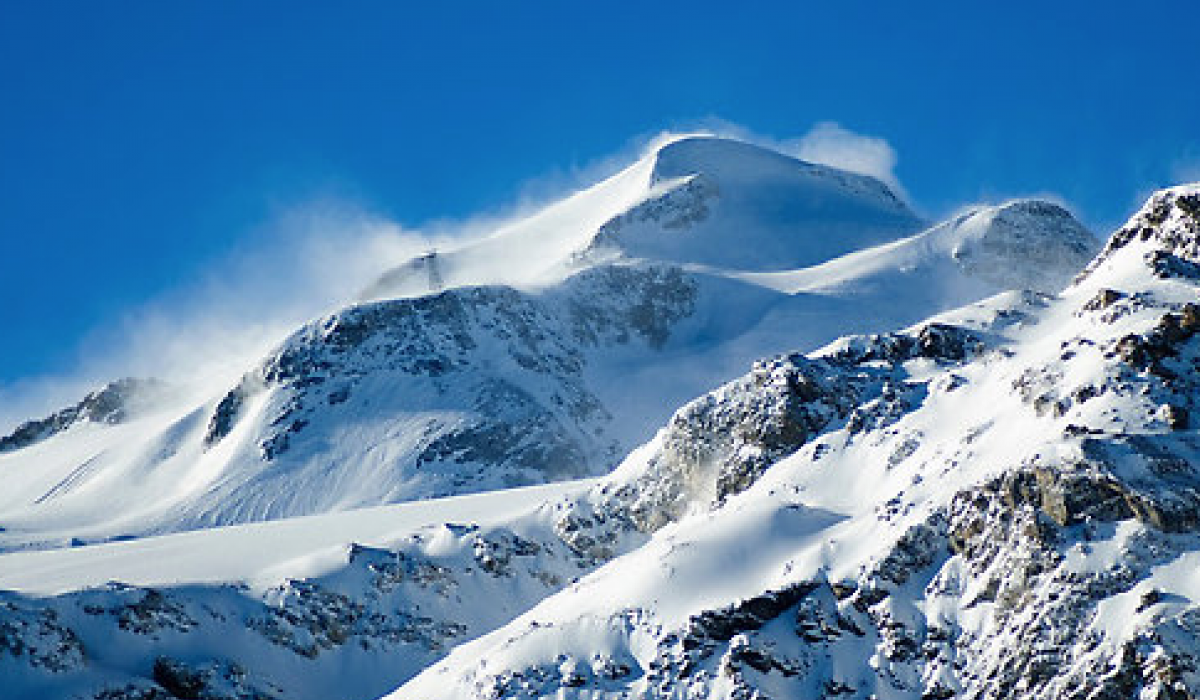 The Vanoise National Park is located between two main alpine valleys : the Haute Tarentaise and the Haute Maurienne and their meeting spot is the Iseran pass which is the highest paved pass in Europe (2764m). The highest summits of this National Park surrounding Tignes are :
Grande-Casse 3855m,

Mont Pourri 3779m,

Grande Motte 3656m.
From the top, many famous summits can be seen, such as Mont-Blanc, Grandes Jorasses and also Tsanteleina mountain just above Val d'Isère village. Grande Motte is a natural border between the ski resort and the wide Leisse valley. Its south face is very steep and can be ridden down into two different couloirs but only with a guide.
Three meters below the summit, there is the top of the glacier called Grande Motte too. This glacier slides down to an altitude of 2700m and has an area of 4.2 km2 . It is divided into 3 parts, flowing slowly to the North (Tignes), the North-West (Grand Casse) and finally to the South-East (Leisse). Different glaciers are located in this part of the N.P :
Pramecou glacier

Belle-Côte glacier above La Plagne ski resort

Epena glacier on the Grande Casse North face
The highest ski area of Tignes (3456m) can be reached by using an underground funicular and a giant cable-car. From there, in winter or summer time, 20 km of slopes are waiting for you. It is easier to reach the Grande Motte summit by climbing up the North face than the south one and a guide is highely recommended. Don't forget, this area is a high-alpine terrain and it is dangerous to get to the top or on the glacier alone.